Every PRACTICE has foundational elements (Core Values) that make it work and allow it to flourish. Part of our foundation, our Core, can be found in what we call...

The 3 Let's of PRACTICE

1) Let us Draw Near... with a true heart in full assurance of faith, with our hearts sprinkled clean from an evil conscience...

2) Let us Hold Fast... the confession of our hope without wavering...

3) Let us Consider How to Stir One Another... to love and good works...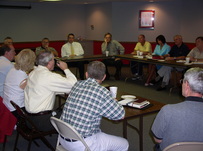 Let us practice these together! When coaching football, some practice periods involve the full squad, but some involve breaking out into small groups, by position, to better put into practice individual roles and responsibilities. This is the same kind of coaching we do in the Marketplace with our corporate clients. The 3 Let's of PRACTICE accomplish the same thing in our PRACTICE HARD Groups.

Large weekly gatherings do not lend themselves to the aspect of Practice. They are better suited for getting fed good content, knowledge, concepts, teachings, etc., especially when the content is good and true and right. PRACTICE is different. PRACTICE is the place where we break down into smaller groups, and work HARD to apply and rehearse (practice) living out content, knowledge, concepts, teachings, etc., in the Marketplace...

"not neglecting to meet together as is the habit of some, but encouraging one another, and all the more as you see the day drawing near."
(Heb. 10:25 ESV)



---
A Testimony

I am definitely not the same Roy I used to be. I have gone through a metamorphosis that only God can take credit for.

I first met Brent Long and was introduced to his business, Long On Life, in 1999 shortly after I started working for the Christian Blue Pages. In our first meeting, I knew that I was in for something great, something revolutionary, and something that would radically change my life, because Brent began sharing a vision from God that was completely missing in our post-modern marketplace. Brent Long is one of those rare individuals who come into your life only once, maybe twice in a lifetime if you're lucky. You know…the kind of person that speaks right through your heart like your closest friend. He said that he was developing a curriculum that will connect common, every-day entrepreneurs and salesmen and professionals (like you and me) to the priceless truths and wisdom found only in the Bible that are directly applicable to our daily marketplace and revenue-generating practices.

Upon joining Long on Life's first group in 2000, I immediately started applying the lessons in my current sales position. Through the weekly curriculum, God was able to help me identify and fully comprehend His will and purpose for both my professional and personal life. By 2001, I was leading the sales team through the weekly material. Over the next few years, I successfully pioneered 3 new area directories. My annual income nearly tripled. I was promoted to Sales Manager and helped my employer expand their revenue by 550%.

But, in 2004, I stopped attending my PRACTICE HARD Group, because of my so-called "busy schedule". I eventually fell out of fellowship with those who were so instrumental in helping me reach my goals. What a crucial mistake. Subsequently, my career began to suffer. Eventually, I decided to leave my employer and chase a pipe dream. Instead of obeying the Lord, I became a partner in a real estate investment firm. After only one year, the business failed, my wife and I filed for bankruptcy and we lost nearly everything we had. To say the least, we have struggled mightily, but God never left us nor forsook us.

Through His infinite mercy and grace, God brought me back to Long On Life and the PRACTICE HARD Group. When I started attending the Friday morning meetings again, all of my old relationships were rekindled and a great number of new ones have been established. Everyone greeted me with open arms (especially Brent) and helped me plug back into the marketplace. The PRACTICE HARD network of professionals is very powerful, very influential and very loving. My healing process entered warp speed! Praise be to God!

Roy H.