"All Scripture is breathed out by God and profitable for teaching, for reproof, for correction, and for training in righteousness,
that the man of God may be complete, equipped for every good work."
(2 Timothy 3:16-17 ESV)
God has used many wise men to speak into my life over the last 20-plus years. They have helped anchor my belief that nothing speaks better about the Word of God than the Word of God. God's Word does not need my help. Rather, I need It... in my daily life, including my work life!
Back in 2000, our first group grew to 38 people before we multiplied and planted new groups. At one point, we had eleven small groups gathering weekly in the Marketplace… Seattle, Hartford, Columbus, Cincinnati, Dayton, Sarasota and even Alberta, Canada. Trained Group Leaders were fed study materials written from an openly Biblical perspective and groups of 5 or 10 or 25 people gathered each week to study and network and pray and encourage one another. Over time, The Word of God has spoken directly into the hearts and minds of men and women in the Marketplace about the roles they play each and every day... their daily practice.
These groups have been through several makeovers (as I have), but the foundation has remained the same… The Word of God applied to our common, everyday, ordinary life in the Marketplace and the position we are in when we go to work. These groups are a result of praying…
"Transform the Marketplace, Lord! Cause it to bring You Glory! Use us as you see fit. In Jesus name, Amen!"
Brent Long, Founder & Head Coach
Long on Life LLC - Becoming in Practice Who We Are in Position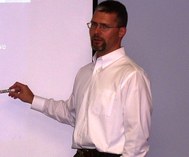 The rest of what you need to know about each one of the people on this team is found in these verses.

WHO AM I?


I am the salt of the earth (Matt. 5:13)
I am the light of the world (Matt 5:14)
I am a child of God (John 1:12)
I am part of the true vine, a channel of Christ's life (John 15:1,5)
I am Christ's friend (John 15:15)
I am chosen and appointed by Christ to bear His fruit (John 15:16)
I am a slave of righteousness (Rom. 6:18)
I am enslaved to God (Rom. 6:22)
I am a son of God; God is spiritually my father (Rom. 8:14, 15; Gal. 3:26; 4:6)
I am a joint heir with Christ, sharing His inheritance with Him (Rom. 8:17)
I am a temple – a dwelling place – of God. His Spirit and His life dwell in me (1 Cor. 3:16; 6:19)
I am united to the Lord and am one spirit with Him (1 Cor. 6:17)
I am a member of Christ's Body (1 Cor. 12:27; Eph. 5:30)
I am a new creation (2 Cor. 5:17)
I am reconciled to God and am a minister of reconciliation (2 Cor. 5:18, 19)
I am a son of God and one in Christ (Gal. 3:26,28)
I am an heir of God since I am a son of God (Gal. 4:6,7)
I am a saint (Eph. 1:1; 1 Cor. 1:2; Phil. 1:1; Col. 1:2)
I am God's workmanship – His handiwork – born anew in Christ to do His work (Eph. 2:10)

I am a fellow citizen with the rest of God's family (Eph. 2:19)
I am a prisoner of Christ (Eph. 3:1; 4:1)
I am righteous and holy (Eph 4:24)
I am a citizen of Heaven, seated in Heaven right now (Phil. 3:20; Eph. 2:6)
I am hidden with Christ in God (Col. 3:3)
I am an expression of the life of Christ because He is my life (Col. 3:4)
I am chosen of God, holy and dearly loved (Col. 3:12; 1 Thess. 1:4)
I am a son of light and not of darkness (1 Thess. 5:5)
I am a holy partaker of a heavenly calling (Heb. 3:1)
I am a partaker of Christ; I share in His life (Heb. 3:14)
I am one of God's living stones, being built up in Christ as a spiritual house (1 Pet. 2:5)
I am a member of a chosen race, a royal priesthood, a holy nation, a people for God's own possession (1 Pet. 2:9, 10)
I am an alien and stranger to this world in which I temporarily live (1 Pet. 2:11)
I am an enemy of the devil (1 Pet. 5:8)
I am a child of God and I will resemble Christ when He returns (1 John 3:1, 2)
I am born of God, and the evil one – the devil – cannot touch me (1 John 5:18)
I am not the great "I AM" (Exod. 3:14; John 8:24, 28, 58), but by the grace of God, I am what I am (1 Cor. 15:10)
Father, please take who I am and use me to build Your Kingdom. In Jesus Name – Amen
(Col. 3:23)